Description
TEAM UP YOUR ROG GEARS FOR VICTORY
ROG PCs (motherboard, laptop, desktops) and ROG wifi routers together with Game First V network acceleration software ensure smoother online game with lower ping and less lag. No matter wire or wireless, Game First and Game Boost prioritize gaming packets and decrease so that you do not miss a bullet from the back.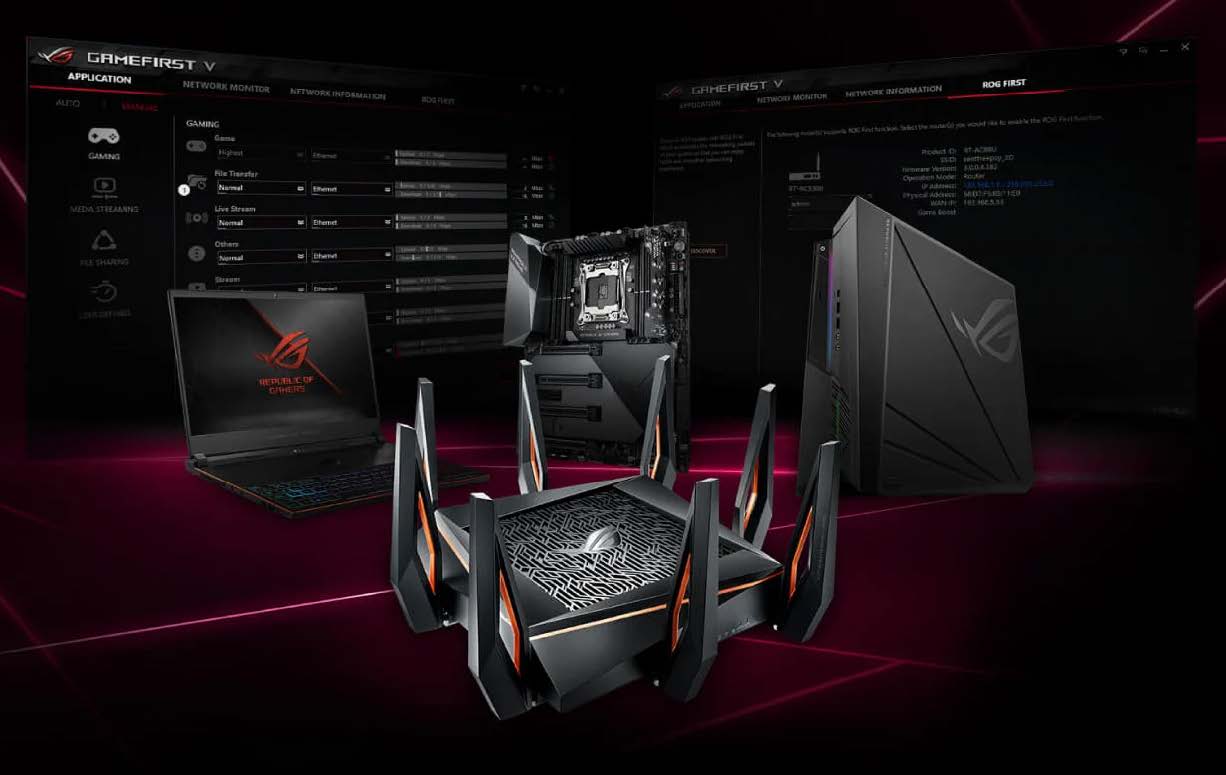 TRIPLE-LEVEL GAME ACCELERATION
GT-AX11000 provides triple-level game acceleration to boost game traffic every step of the way. This lowers ping rate and reduce game latency for better gaming experience6
ROG GAMING CENTER:
RULE YOUR NETWORK
GT-AX11000 is designed with just one mission in mind: Make your gaming network awesome. It's packed with powerful gaming optimizations, and delivers dominating Wi-Fi performance, rock-solid stability and state-of-the-art security. The ROG-themed Gaming Center interface provides easy point-and-click control over every incredible feature.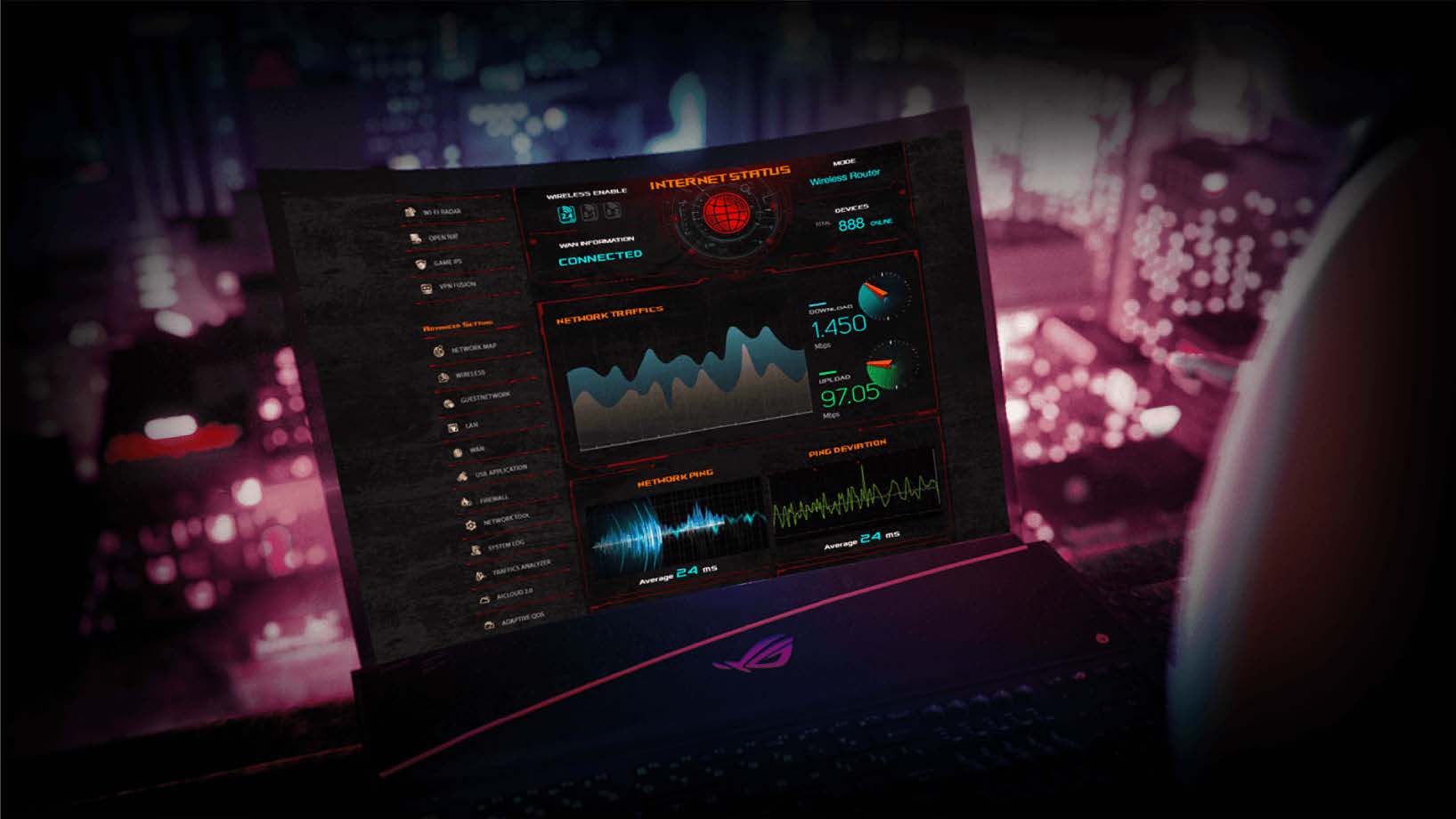 DON'T TRUST YOUR
VICTORY TO LUCK
When it comes to ranking, a great connection to your game server is critical. Game Radar lets you check ping times to different servers4before you play, so you can choose the best one and gain the competitive edge.
KEEP YOUR GAMING
BAND CLEAN
Tri-band networking lets you dedicate one 5GHz band to gaming only, so you can avoid competing for bandwidth with other devices on your home network. With dynamic frequency selection (DFS), ROG Rapture GT-AX11000 also unlocks 15 channels in the least-congested 5GHz bands, providing more bandwidth for all of your wireless devices.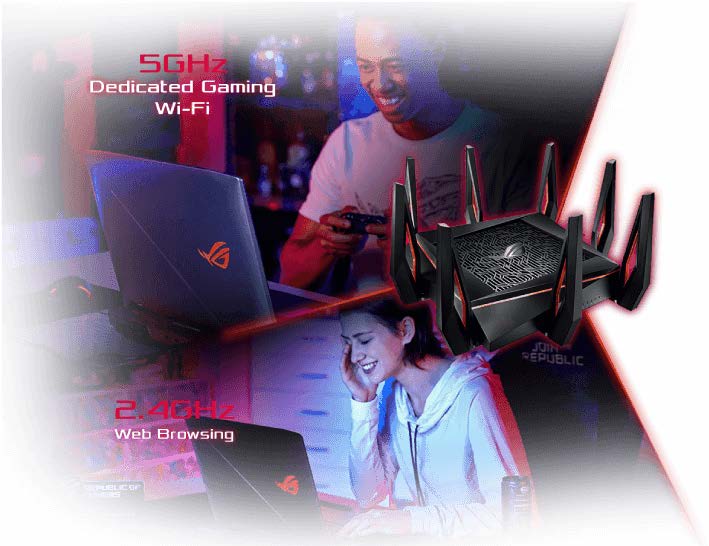 SIMULTANEOUS GAMING AND VPN
If you're fed up with virtual private networks dragging down game performance, ROG has the answer. ROG Rapture GT-AX11000 has a killer feature called VPN Fusion, which lets you run a VPN and an ordinary internet connection — simultaneously! So even if other network users need to use a VPN, you can still enjoy maximum gaming speeds.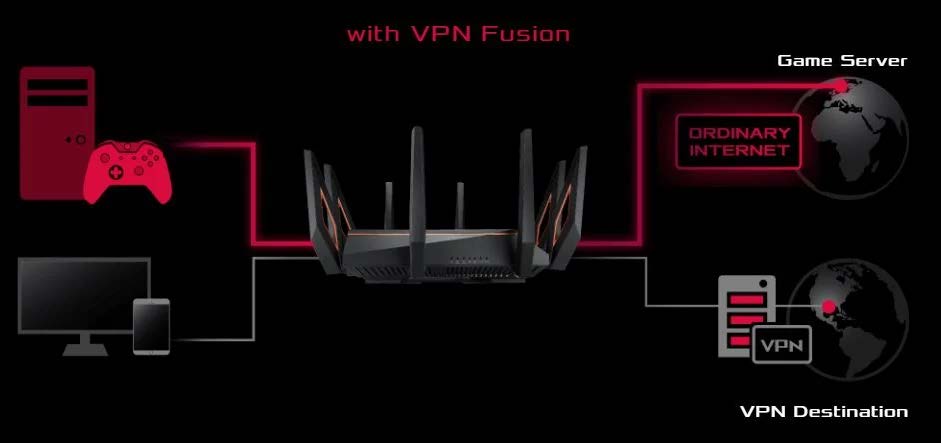 Light Up and Win
ROG Rapture GT-AX11000 is the first ROG router with Aura RGB lighting, which can display hundreds of colors and multiple effects for a stylish vibe that matches their other Aura-enabled gaming gear.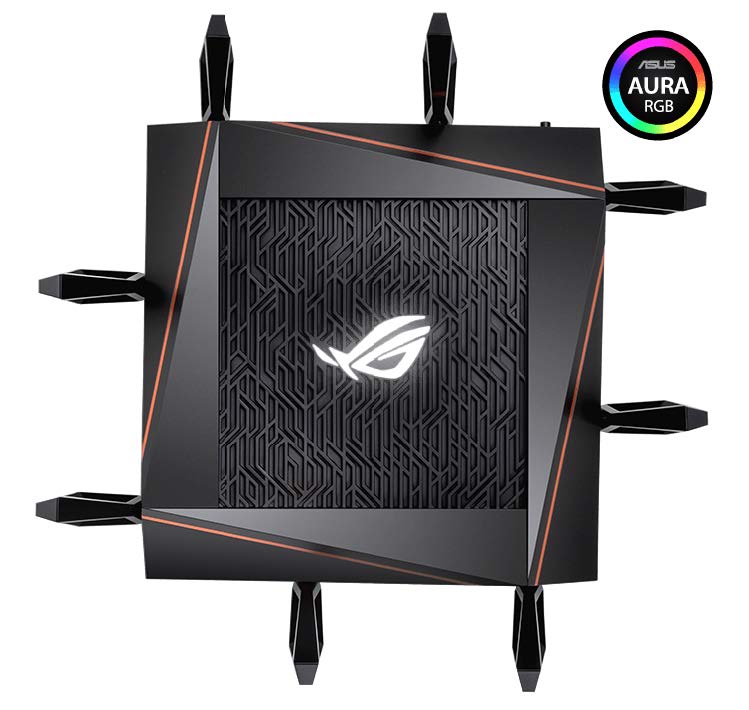 FORTIFIED FRONTLINE NETWORK SECURITY
ROG Rapture GT-AX11000 features AiProtection Pro powered by Trend Micro™ to defend your network from external attacks and threats by neutralizing them before they can reach your devices. Even if your PC's security software isn't turned on,  AiProtection Pro still protects your network from attacks and ntrusions, giving you added peace of mind.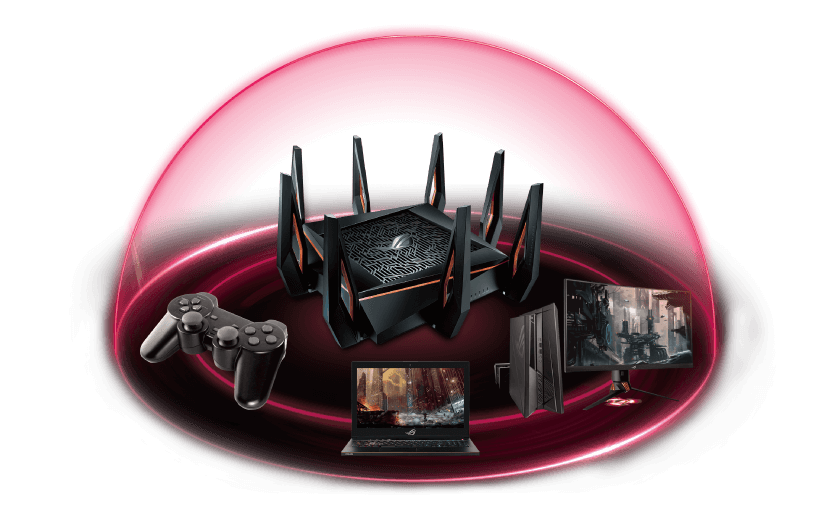 BATTLE READY HARDWARE
In addition to incredible wireless  performance, GT-AX11000 comes with a 2.5G WAN/LAN port for up to 2.5X faster data transfers than regular Ethernet. The router is powered by a 1.8GHz 64-bit quad-core CPU to easily handle online gaming, supercharge USB data transfers and power LAN parties. For added convenience, a customizable button on the front of the router lets you instantly control a function of your choice, such as Aura RGB lighting, Game Boost or the DFS bands.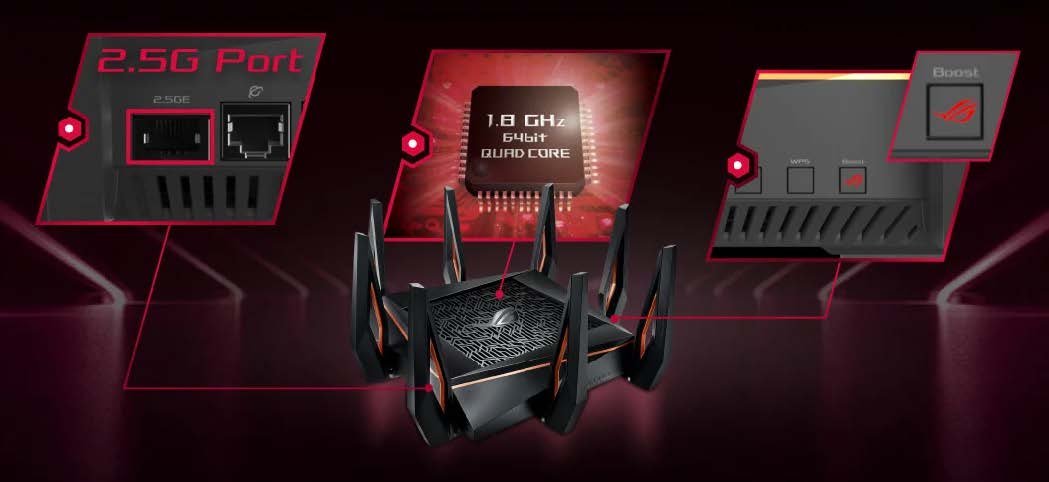 Disclaimer:*To benefit from 802.11ax features, the Wi-Fi client needs to be 802.11ax capable.
The data refers to uplink-OFDMA
The free router edition supports one selectable device on your network at a time with GPN traffic limits, and includes wtfast® technical support. Users can pay to upgrade to the advanced version for simultaneous acceleration of multiple devices with more GPN traffic and advanced features. You may check supported game list here.
ROG Devices supporting Game First V
Supporting game list includes League of Legends, Overwatch, Dota 2, Hearthstone, Diablo III, Hero of the Storm, Garena LoL, StarCraft II, World of Warcraft, World of Tanks, World of Warplanes
ac data refers to: 40MHz / 256QAM on 2.4GHz band and 80MHz / 256QAM on 5GHz bands. ax data refers to: 40MHz / 1024QAM on 2.4GHz band and 160MHz / 1024QAM on 5GHz bands
​ROG reduces peak ping by up to 90% calculated from the reduction of peak ping rate from 80 milliseconds (ms) to 8 ms when using the GameFirst V on ROG gaming devices, Game Boost mode on ROG router and GPN from wtfast® using a 10 megabits per second (Mbps) down/2Mbps up internet connection that has multiple devices BitTorrent and video streaming simultaneously.